Fitness for One and All Home Page
Books and eBooks by the Director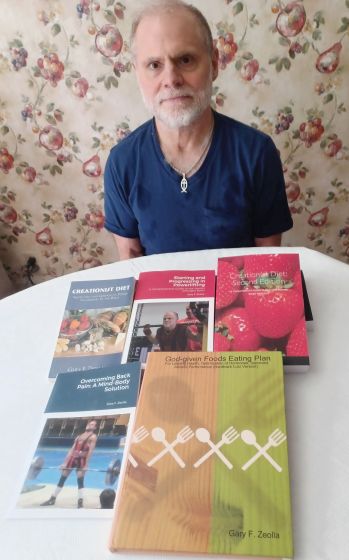 The following books are by Gary F. Zeolla, the director of Fitness for One and All. These books are available in hardcopy and/ or eBook formats. Click on the title link for further details, available formats, and purchasing information.
---
---
Note: I have numerous additional books available, but they are all either a strictly Christian and/ or political nature. The Christian books are described on the books section of my Christian Darkness to Light website. The political books are described on the books section of my Biblical and Constitutional Politics website.
PRICE DROP! The prices for each of the following books have been dropped, so that each Kindle eBook now only costs $2.99 (except the last one). The costs of the other formats have also dropped accordingly. I also updated some of the covers. However, only my Creationist Diet: Second Edition book had its contents updated, and then mainly to make any URLs in the book into clickable links in the eBook versions.
5/31/23

Creationist Diet: Second Edition; A Comprehensive Guide to Bible and Science Based Nutrition
This Second Edition is 2-1/2 times as long and presents a different perspective on diet than the First Edition. The First Edition mostly advocated a vegan diet, while this Second Edition also advocates for a diet that includes animal foods. However, and this is very important, those animal foods are to be what are called "old-fashioned" meats, dairy, and eggs, not the "factory farm" products that most people eat. What is meant by these two terms and the incredible difference between them is explained in this book. In addition, this book covers a wide range of diet related topics to help the reader to understand how to live a healthier lifestyle according to God's design.
---
God-given Foods Eating Plan: For Lifelong Health, Optimization of Hormones, Improved Athletic Performance
The approach of this book is to study different foods and food groups, with a chapter devoted to each major classification of foods. First the Biblical evidence is considered, then the modern-day scientific research is reviewed. Foods are then classified as "God-given foods" and "non-God-given foods." The main point will be a healthy eating plan is composed of a variety of God-given foods and avoids non-God-given foods.
---
Starting and Progressing in Powerlifting: A Comprehensive Guide to the World's Strongest Sport
This 350 page book is geared towards the beginner to intermediate powerlifter, along with the person just thinking about getting into the sport. This book presents sound training, competition, dietary, and supplement advice to aid the reader in starting and progressing in the sport of powerlifting. It will also help the reader to wade through the maze of federations, divisions, and supportive gear now found in powerlifting.
---
Overcoming Back Pain: A Mind-body Solution (Second Edition)
I powerlifted in college, but back pain forced me to stop lifting. Eventually, the back pain worsened to the point where I was crippled by it for six years. I tried various traditional and alternative treatments, but all to no avail. But then by utilizing mind-body techniques I was able to completely overcome the back pain, so much so that I was able to start powerlifting again.
---

Creationist Diet: Nutrition and God-given Foods According to the Bible
This book has been superseded by the preceding Second Edition, but it is still available.
What did God give to human beings for food? What does the Bible teach about diet and nutrition? How do the Biblical teachings on foods compare to scientific research on nutrition and degenerative disease like heart disease, cancer, and stroke? These and other questions are addressed in this book.
---
Most of the reviews of these books on Amazon are positive. But there are a few negative reviews. For this author's responses to those negative reviews, see the article Responses to Negative Reviews of My Fitness Books on Amazon.
Text Search
Alphabetical List of Pages
Contact Information
Fitness for One and All Home Page