Fitness for One and All Home Page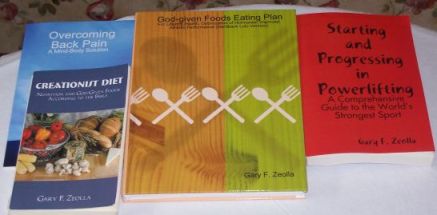 Books and eBooks by the Director
---
RPS 5th Set Black – 2019 - Pictures
By Gary F. Zeolla
I competed in the 5th Set Black powerlifting contest for the Revolution Powerlifting Syndicate (RPS) in Tarentum, PA (near Pittsburgh), on Saturday, September 28, 2019. It was held at Legends of Pittsburgh Fitness and Performance Center in Pittsburgh Mills Mall. For a detailed contest report, see RPS 5th Set Black – 2019. Below are pictures from the contest. Click any picture for a larger image.
Some of these my dad took, while others are from a file sharing folder someone set up on Google Drive for people to upload and download pics from the contest. I downloaded every pic of me and uploaded a few my dad took of other lifters. There's a nice sequence of my third and fourth squat attempts and my second bench attempt. The captions are after the picture(s) being commented on.
The entrance to the gym hosting the contest.
The scorer's table, with Ame Rychlak (the meet director) to the right.
My opener with 275 while wearing APT heavy knee sleeves.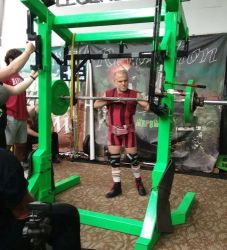 My second attempt with 310 while wearing APT Black Mamba 2.5-meter knee wraps. I didn't think the rack wasn't set properly, so I was double-checking it.
A sequence of pics of my third attempt with 320.
The fourth attempt with 331.1 wearing Crain Genesis 3.0-meter wraps. I know it is my fourth and not my third by the way my knees are wrapped. I had a bit of extra wrap for that lift due to wrapping extra tight, so I tucked it in over the front.
A sequence of pics of my fourth attempt with 331. The most important is the second pic that shows my depth is perfect for this record-breaking lift.
My bench opener with 150.
A sequence of pics of my second attempt with 160.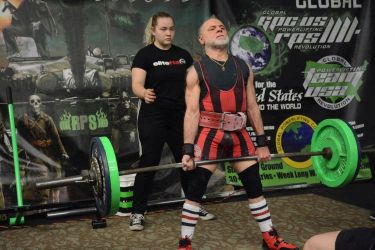 My opener with 365.

My second deadlift attempt with 385.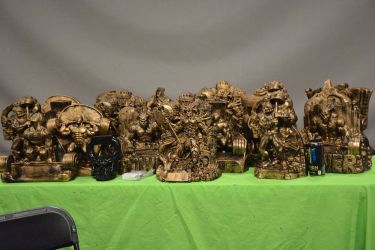 The trophies before they were handed out.
The group photo of all of the lifters with our trophies. But this was before the Best Lifters were announced, so I am only holding my weight class trophy.
A close-up of me during the group pic.
One of the soccer fields. If you look way at the end of this field, you will see some netting. The contest was held behind that netting. The lone bathroom was a ways behind where I am standing to take this pic. Why the contest was crammed behind the netting rather on this spacious field is beyond me.
The crammed contest area.
Me with both of my trophies, one for winning my weight class and the other for Best Lightweight Lifter.
For my initial workouts after this contest, see forthcoming.


The above pictures were posted on this site September 30, 2019.

Powerlifting and Strength Training


Powerlifting and Strength Training: Contest Reports
Text Search
Alphabetical List of Pages
Contact Information
Fitness for One and All Home Page

Books and eBooks by the Director
---