Fitness for One and All Home Page
Books and eBooks by the Director
---
Western Pennsylvania Powerlifting Championships
2006 - Pictures
I competed in the Western PA Powerlifting Championships - 2006. My dad came with me and did the driving, and he took pictures. Many thanks to him for both. But note that the date on the pics is wrong. It should be 04/08/2006. Click on any picture for a larger image.
My first squat attempt with 365. It was a good lift, but a little harder than I expected.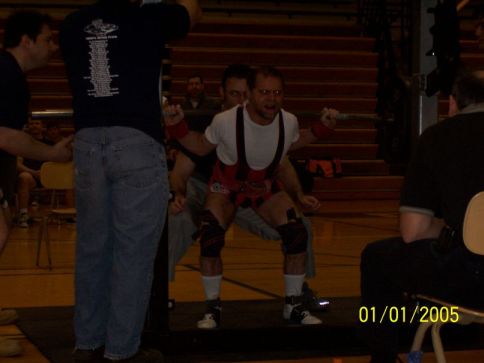 My second attempt with 385. It was a very hard lift, hence the screaming. But I got it!
I later found out this lift was good enough was good enough to place me in the Top 15 on the All-time raw open (all ages) ranking lists for the 123s.
My dad didn't get my 3rd attempt with 400. But I missed it anyhow, so no matter.
My first bench attempt with 175. It was very easy.
The head judge is Ron Deamicis, the meet director. Many thanks to him for the well-run contest.
My second attempt with 190. It got it, but it was difficult.
That's Steve Snyder handing the weight off to me. He won best lifter at this contest two years before.
I first met Steve 26 years ago when we both competed at Teenage Nationals.
So it was nice seeing him here again. And thanks to him for the handoffs.
My dad didn't get my third attempt. But again, I missed it. So no matter.
My first deadlift attempt with 365. Very easy.
My second attempt with 385. Hard, but with strength to spare.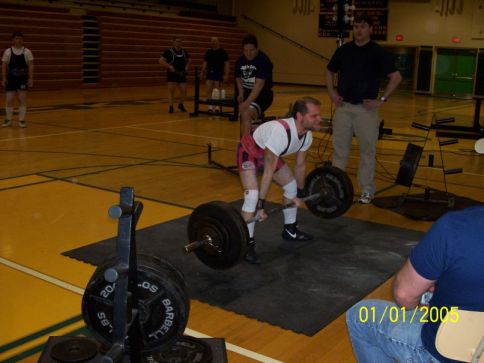 I'm glad my dad got this third attempt. It was with 400 and was very difficult, but I got it!
Me and my two trophies, one for the open division and one for the masters division.
It was a good contest, but trophies with an Olympic lifter figurine for a powerlifter contest is really dumb.
---
There was also a contest photographer. He was standing right beside the head judge, so his pictures really turned out nice. I purchased three glossy, 8-1/2"x11" printouts, one for each lift. He promised to email me the digital files. But he never did, so I scanned the pics. They came out rather well.
This was my second attempt. I missed 400 on my third.
Looking at my stance, it's closer than I thought, so I might work on opening it up a bit.
The caption is wrong. 190 was my second attempt, which was my best completed lift.
This pic is actually of my missed third attempt with 200.
Looking a this pic, I actually got the bar higher than I had thought. So I'm even more upset I missed it.
But it does show that even with lifting raw, I need to do top end work.
I also might want to try bringing my elbows in a little.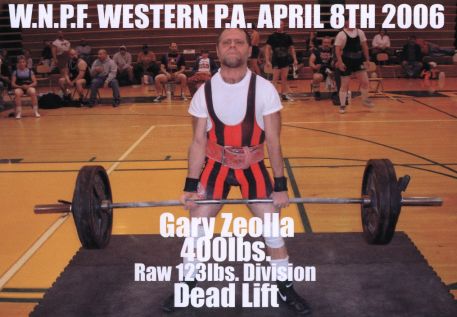 This was my third attempt and my best lift of the day.
My stance is rather close for a sumo DL, so I am thinking of trying conventional stance DLs for a while.
For my first workouts after this contest, see Full Workout Logs: Starting 4/17/06: Off-Season Training.


The above pictures were posted on this site April 10, 2006.

Powerlifting and Strength Training


Powerlifting and Strength Training: Contest Reports
Text Search
Alphabetical List of Pages
Contact Information
Fitness for One and All Home Page

Books and eBooks by the Director
---