Fitness for One and All Home Page
Books and eBooks by the Director
---
IPA Iron House Powerlifting Classic
2005 - Pictures
I competed in the Iron House Powerlifting Classic - 2005. Below are pictures of yours truly taken by the contest photographer. Click on any picture for a larger image. Pictures of other lifters at the contest are posted on the Web site for Iron House Gym.
I'm not sure which attempt this was, but it looks plenty deep to me.
.
Counting the weights on the bar, this looks to be my second attempt with 215. I got this lift.
But it looks like where I stalled on my third attempt with 225.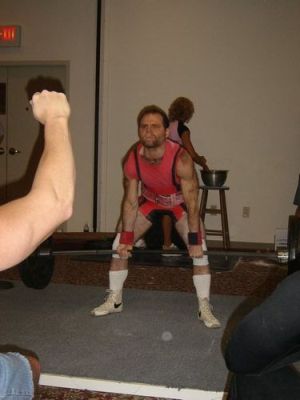 I really have a mean look on my face on this one!
My form here looks similar to my form on DLs in college (see Yours Truly Performing the Powerlifts).
I'm still driving backwards with my head.


The above pictures were posted on this site April 27, 2005.

Powerlifting and Strength Training


Powerlifting and Strength Training: Contest Reports
Text Search
Alphabetical List of Pages
Contact Information
Fitness for One and All Home Page

Books and eBooks by the Director
---