Fitness for One and All Home Page
Books and eBooks by the Director
---
Me and My Birthday Gifts
2019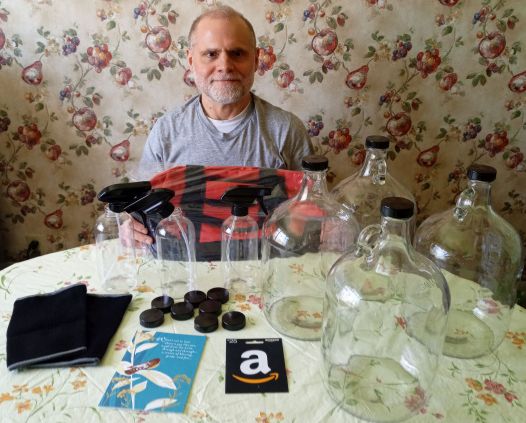 My 58th birthday was last week, but I still wanted to post the picture above of me with my presents. All of the gifts are from my dad, Nick Zeolla, except for a couple I bought for myself. They are all related to my powerlifting. The links are direct links to where each item can be purchased at Amazon. Click any picture for a larger image.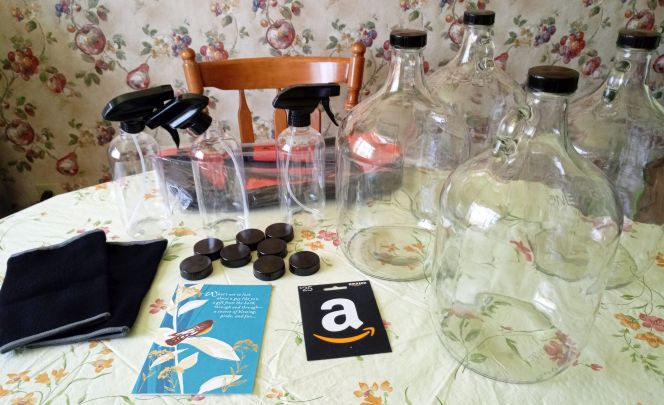 The four large bottles are one-gallon jugs for taking filtered water to contests, as I don't like to drink tap water. I only use three, but they came in a pack of four. I take two into the hotel and leave one in my car. That is in case I run out of water in my half-gallon jug at the contest, so I can run out to my car and refill it. Until my next contest, I am keeping at least one jug filled in case of emergency, such as our recent power outage, during which the water dispenser with filter in my fridge did not work.
I had been buying spring water for both purposes, but that water comes in plastic jugs and always has a plastic taste to it. I'm trying to get away from using plastic as much as possible for food and drink, as I don't think it is too healthy to be consuming plastic residues. That is why I bought myself some Pyrex bowls for storing and microwaving foods rather than using plastic containers.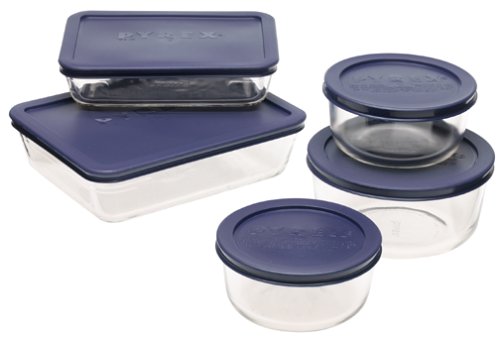 The little black discs are lids for the bottles, as they did not come with lids, so I had to get them separately. They came in a pack of a dozen. That was many more than I needed, but it will be good to have some extras in case I lose one or one breaks.
The red and black item in the back is a small gym bag. I have a large black gym bag for putting all of my gear into for contests. But I like to have a smaller one to put what I need for the lift at hand during the contest and keep just that with me. Then between lifts, I change the gear around as need be. This particular gym bag is available in various colors, but I got red and black, as that is the color pattern of most of my powerlifting gear.
The black items to the left are elbow sleeves, but I will be using them as knee sleeves. With as short as I am, smalls in knee sleeves are usually still a bit too big. But I figured a large elbow sleeve would be just about right. If they fit and work right, I will use the Amazon gift card to get another pair.
The spray bottles are because at my recent contest baby powder was not allowed to be used, but you could spray your thighs with water before deadlifts. I had never done that, so I didn't want to try it at the contest. But I figured it would be worth trying at home. As it was, I am glad I didn't try it at the contest, as it seemed to make it harder to drag the bar across my thighs. But the spray bottles will still be helpful, in that I always wipe my thighs off before deadlifts to be sure there is no chalk on them. Spraying them first will ensure all of the chalk is off. They came in a three pack, so I will keep one in my home gym, one with my contest stuff, and the third I will keep in my office, as I am planning on getting a plant, and a spray bottle will be good for watering it.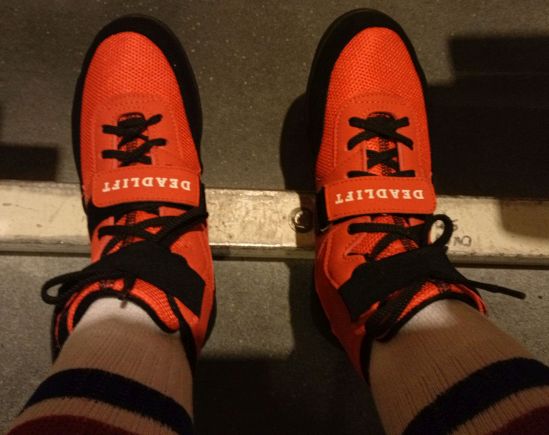 This last gift I also gave to myself—Sabo Deadlift Shoes. Again, they are available in various colors, but I of course got the red and black ones. They look really nice, and they worked great the one time I used them.
Me with My Birthday Presents - 2019. Copyright © 2015 By Gary F. Zeolla.

The above page was posted on this website April 3, 2019.


Powerlifting and Strength Training

Powerlifting and Strength Training: Miscellaneous Items
Text Search
Alphabetical List of Pages
Contact Information
Fitness for One and All Home Page

Books and eBooks by the Director
---