Fitness for One and All Home Page
Books and eBooks by the Director
---
Chains Plus Reverse Bands Pictures
by Gary F. Zeolla
See the article Bands and Chains for a discussion on the pics below.
See also Band Pictures, Reverse Bands, and Chains Pictures.
---
Along with using them separately, you can also combine chains and reverse bands. This provides a greater difference in tension between the top and bottom of the lift. It also give a greater training effect, making the lift very demanding. So start with chains or bands first, but later experiment with combining them. Below are pics of chain plus reverse band benches. Click any pic for a larger image.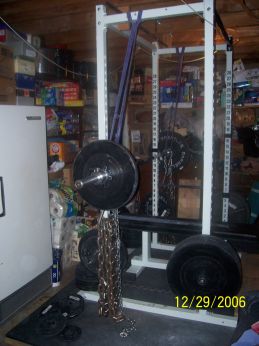 Note that I place the bands on first then the chains.
---
Chains Plus Reverse Bands Pictures. Copyright © 2006 by Gary F. Zeolla.


The above pictures were posted on this site December 30, 2006.

Powerlifting and Strength Training


Powerlifting and Strength Training: Powerlift Assistance Exercises
Text Search
Alphabetical List of Pages
Contact Information
Fitness for One and All Home Page

Books and eBooks by the Director
---